Another travel post this week! 🙈 I'm super grateful to have had the chance to travel so much this year – especially after a year off travelling in 2018, I think I really needed this to get it all out of my system. 😂
---
Matt and I booked this trip to Norway for the August bank holiday weekend after we got back from our 3-week interrailing adventure. We were both just so inspired to stay on the road and discover beautiful places.
As we both had never visited a Scandinavian country before and with Ryanair flights going very cheap, we went ahead and booked it! Straight after we had booked it however, we quickly realised that the airport Ryanair was flying to was not the main Oslo airport, instead one that was 2 hours away from central Oslo (i.e. where we wanted to be. 🤦🏻‍♀️ This realisation actually nearly made us cancel the flights (just because 4 days was too short and it felt like more of a hassle), but I'm so glad that we didn't. Although the trip was short, it was so needed for both of us.
Day One – a blur
As well as the airport being in the middle of nowhere, our flight was so early. Travelling from Leeds to Manchester at 4am, then Manchester to Torp to finally Norway – Torp to Oslo really tired us out! By the time we got to central Oslo and checked into our hotel, we fell onto our bed and just slept. 😂
It honestly was one big blur, but I do remember noticing how clean everything was – from public transport to the city centre! There were also a lot of greenery in the city centre and everyone seemed to be driving electric cars!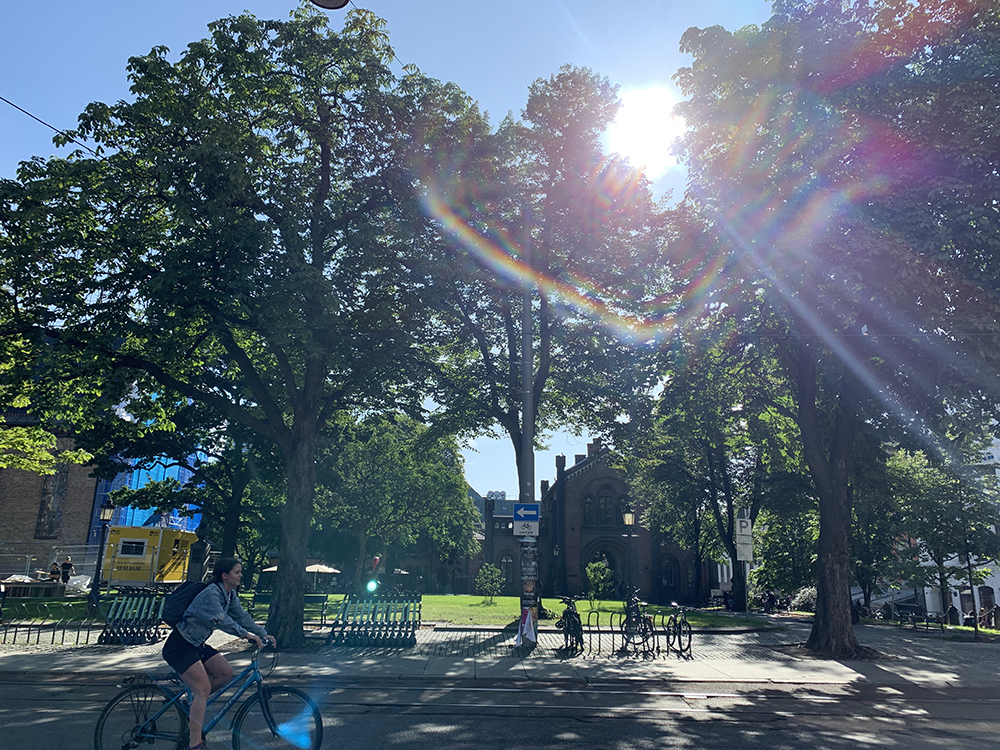 When we woke from our nap, I felt a little guilty essentially "wasting a day" but kept reminding myself that we weren't in any condition to explore. It wouldn't have been fun for anyone, so I try not to regret it.
Our first meal in Oslo was a simple Subway Salad (as it was just down the road from our hotel), we were both surprised when we ended up paying £23 for two salads and two cookies. My friends and colleagues did warn me that it is expensive in Norway, but didn't truly take that in until we got there. Yikes. 💰
People weren't kidding when they said Norway is expensive. Rip

— Pauline P. Narvas (@paulienuh) August 24, 2019
Day Two – green spaces, great weather and museums
A pricey breakfast
Feeling a lot more refreshed and ready to go, we woke up early to seize the day! It was actually quite difficult to find a breakfast place that served more than just hot beverages and croissants. Luckily, Matt found one that was just 10 minutes from us! Gunnars Generasjonsbar is a small, but very cute breakfast restaurant that served some very interesting breakfast choices. I had a chicken waffle covered in this sweet sauce (I totally forgot the name of it), it was surprisingly delicious. 😋
But that whole meal costed us £50 in total. 50, for breakfast. Ouch. The most expensive breakfast I've ever had to date. 💸
Damn it, Norway.
Parks, and more parks
After breakfast, we started exploring! The weather was perfect – perfect temperature, perfect amount of sun. Not too warm, not too cold. Just right. ☀️
On our way to the park, we passed a fountain that looked like it was one of those that are just there as a display / part of the architecture. But we then watched a guy fill up his water bottle with the water from the fountain. This might not be a huge deal, but for us – we were shocked! We didn't know you could just get fresh water like that because in places such as Budapest, it isn't recommended that you have tap water! We took the risk and I asked on Instagram if anyone has done it before, and to my surprise I received a number of responses telling us that it is safe. In fact, it was the nicest water I've ever had. Ever.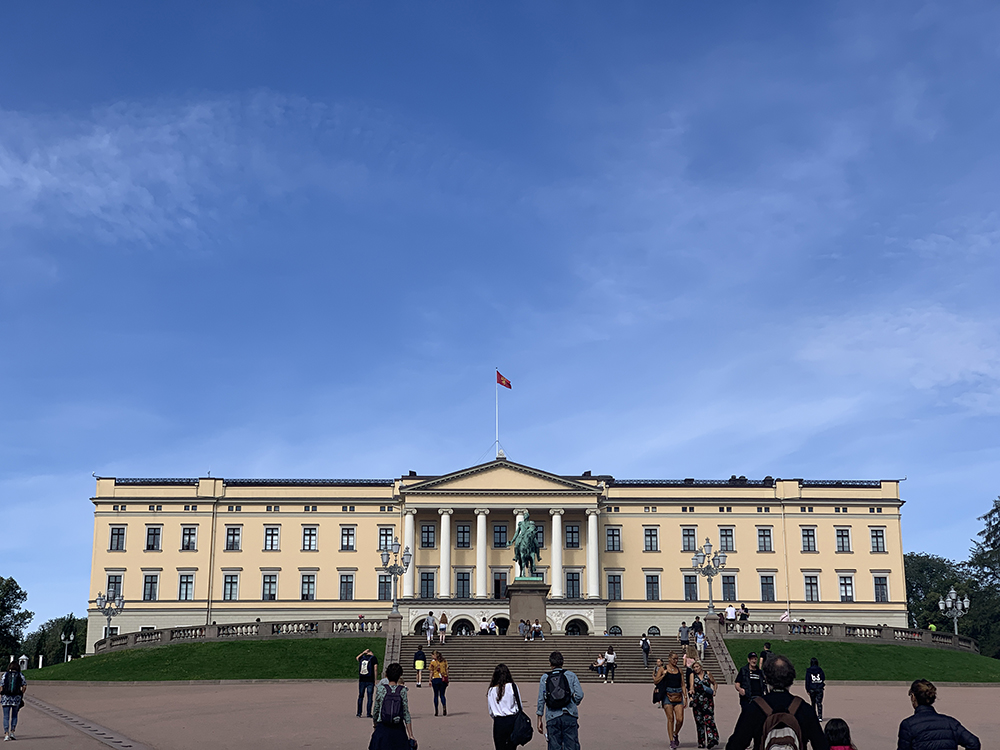 We spent most of our second day at different parks. The first park we went to – Palace Park – reminded me of Schönbrunn in Vienna. The Royal Palace was yellow and situated on top of a hill, similar to Schönbrunn. 🙈
Whilst walking around this park, we found a Lime scooter. If you travel around Europe a lot, you might've seen them about – they are green scooters which you can get on and pay-as-you-go via an app! Once you're done with them, you can park them wherever you are. Matt had always wanted to try one out after seeing them in Portugal last year, so we hopped on one and gave it a go! We were going to get one each, but after trying out one and finding out that my fear of falling off a scooter still exists… we held off. 😂 It was fun riding it to the best of my ability and of course, just spending time running around the park! Honestly, it was one of those perfect day moments.
After spending a few hours at Palace Park, we headed to Frogner Park where we saw the infamous Vigeland Sculpture Park. The sculptures there were… interesting! There were a few questionable ones, including one of a guy throwing a kid in the air – the child was not amused at all. 😆 After spending some time just chilling out under the sun, we headed to a restaurant in the park for a late lunch. (Spoiler alert: It was expensive ASF.)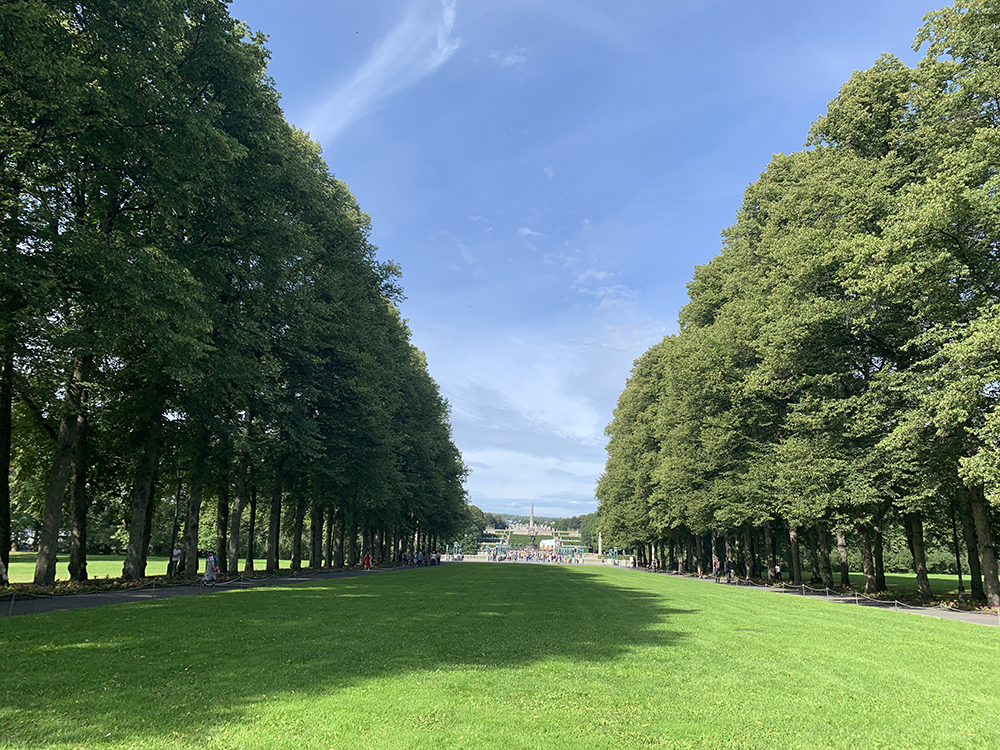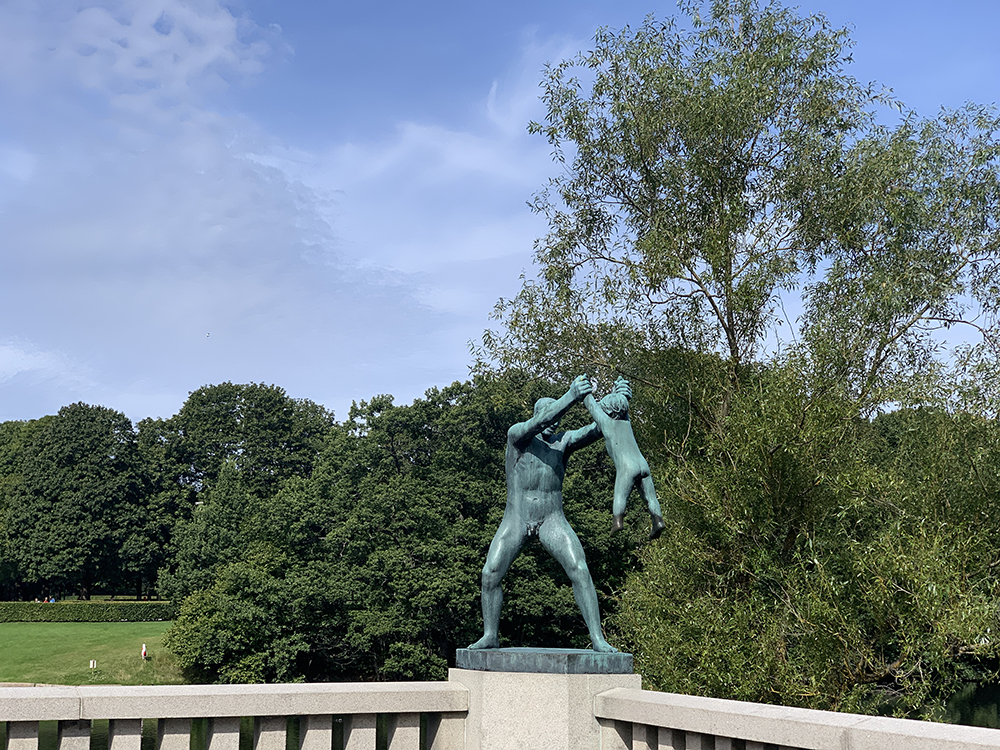 Norsk Folkemuseum
Our friend, Darren recommended to visit this museum! So from Frogner Park, we walked to a bus stop and waited for the bus to take us there. Whenever I understand public transport in a different country I can't help but feel a huge sense of pride! I feel like a local, an international citizen!! I think that my experience of travelling around a lot this year so far definitely helped with that. 😊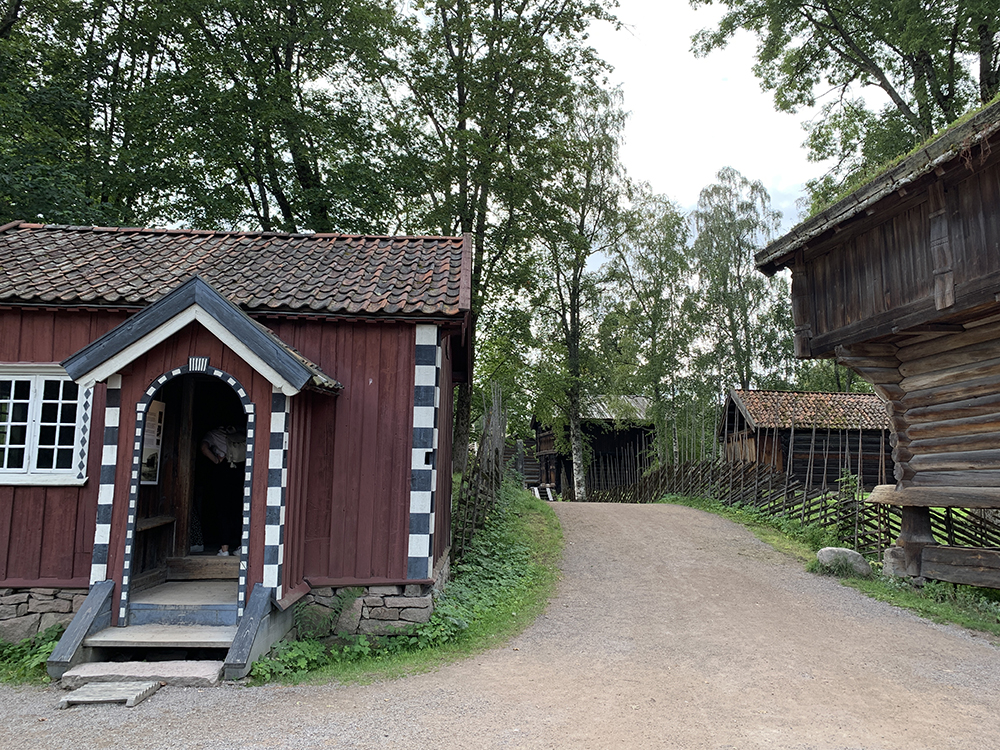 Although the bus was a little bumpy (the driver was driving super fast and it was PACKED), it was totally worth the journey to the museum.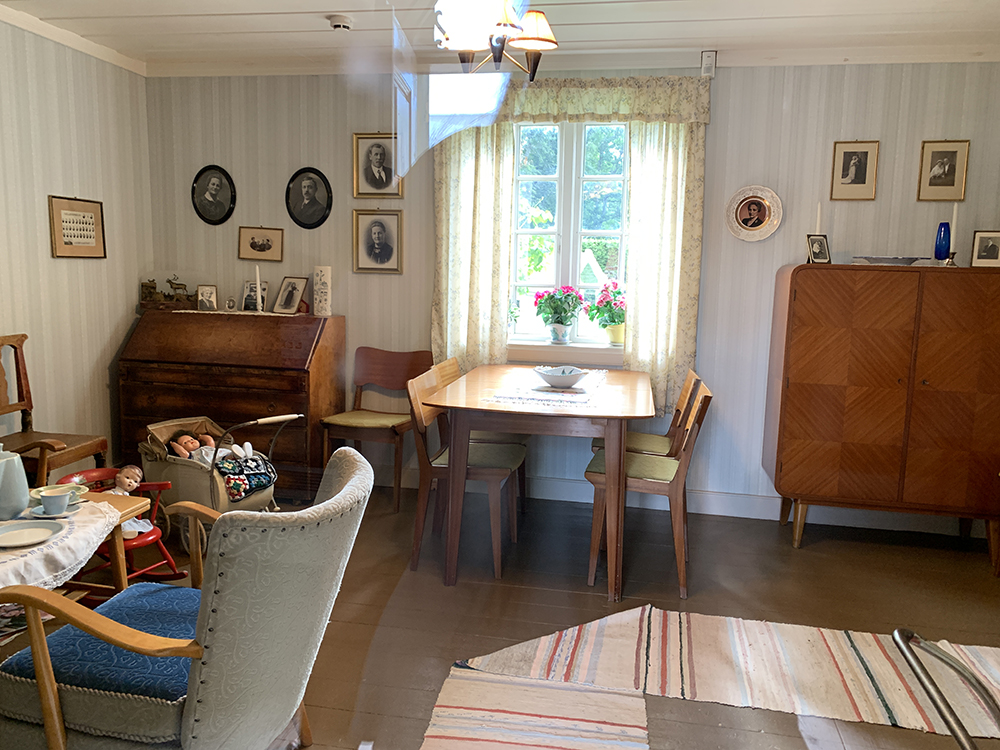 We spent the remainder of our day exploring the museum, learning about Norwegian history from architecture, culture to art. This museum was an open-air one, so most of it was outside. Sometimes it felt like you went back in time, especially when you are surrounded by a neighbourhood of old homes. You could also go into a few of the old and new houses, and truly see what it was like to live in them. In some cases, there were some actors dressed up in traditional clothing in the homes! Initially, it was quite scary because they looked like ghosts! 😆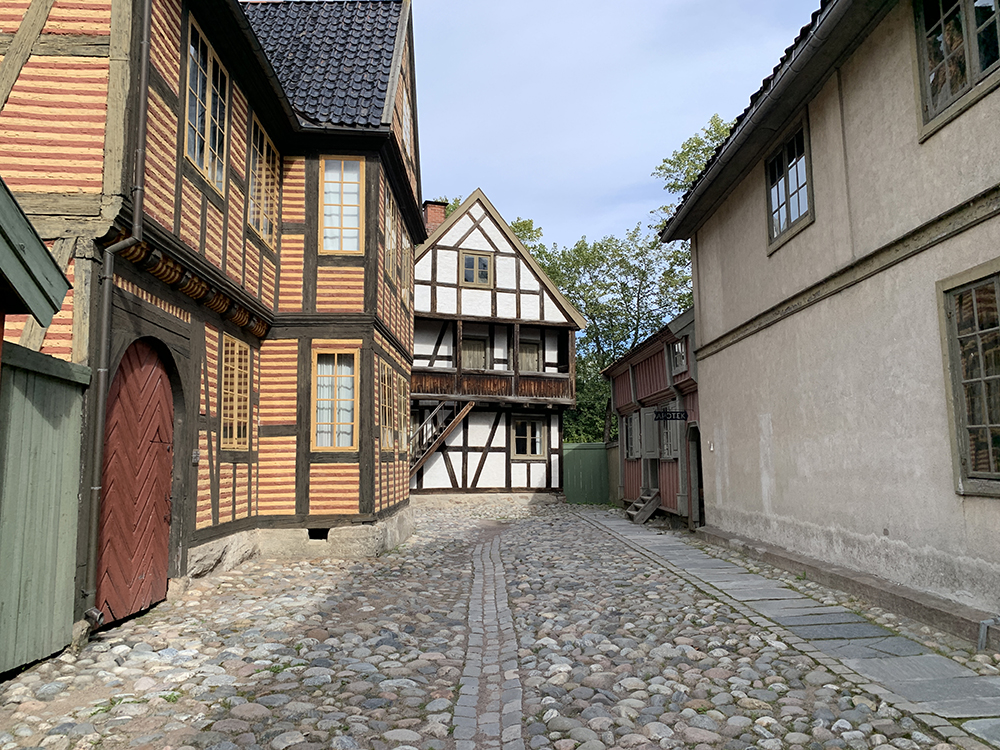 An evening stroll
Just before we went to find somewhere relatively cheap for dinner, we went on a little stroll around our hotel and ended up at the Oslo Opera House. The area around here is truly wonderful! We were lucky to experience an incredible sunset as well which made it truly magical from the very top of the Opera House. This reminded me of the Opera House in Hamburg.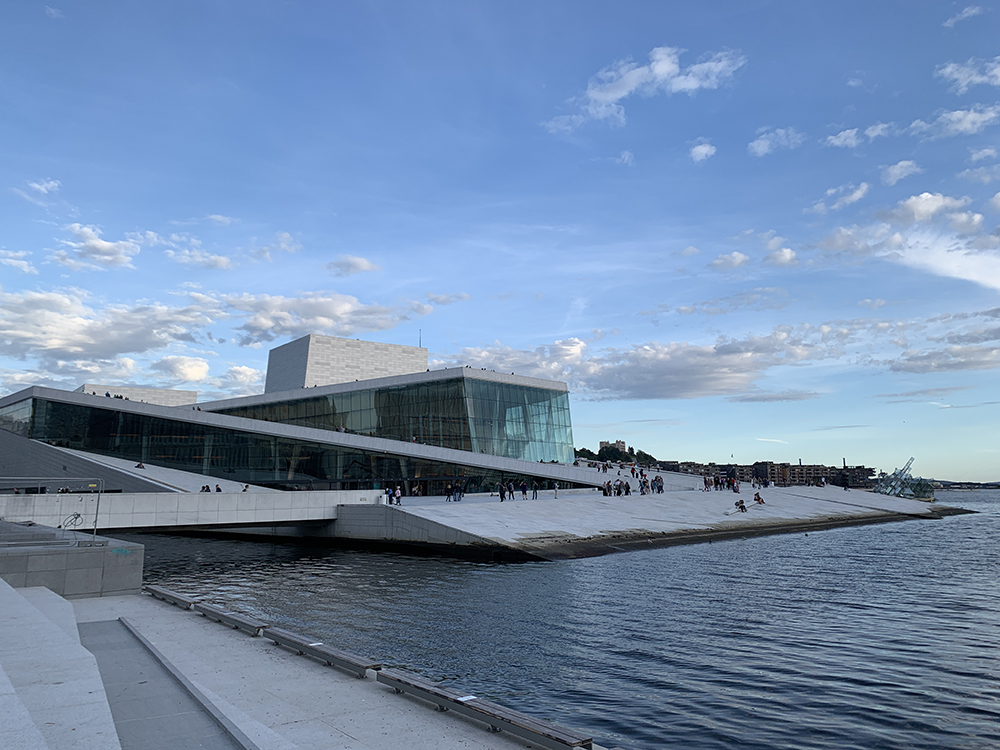 During our evening here, we met some two Filipinos who asked us to take a photo of them. It was cool to practice the Tagalog that I know and just to generally have a chat with someone whilst travelling. ✨
Out of all the meals we had in Oslo, a quick burger from Burger King was the cheapest meal that we had.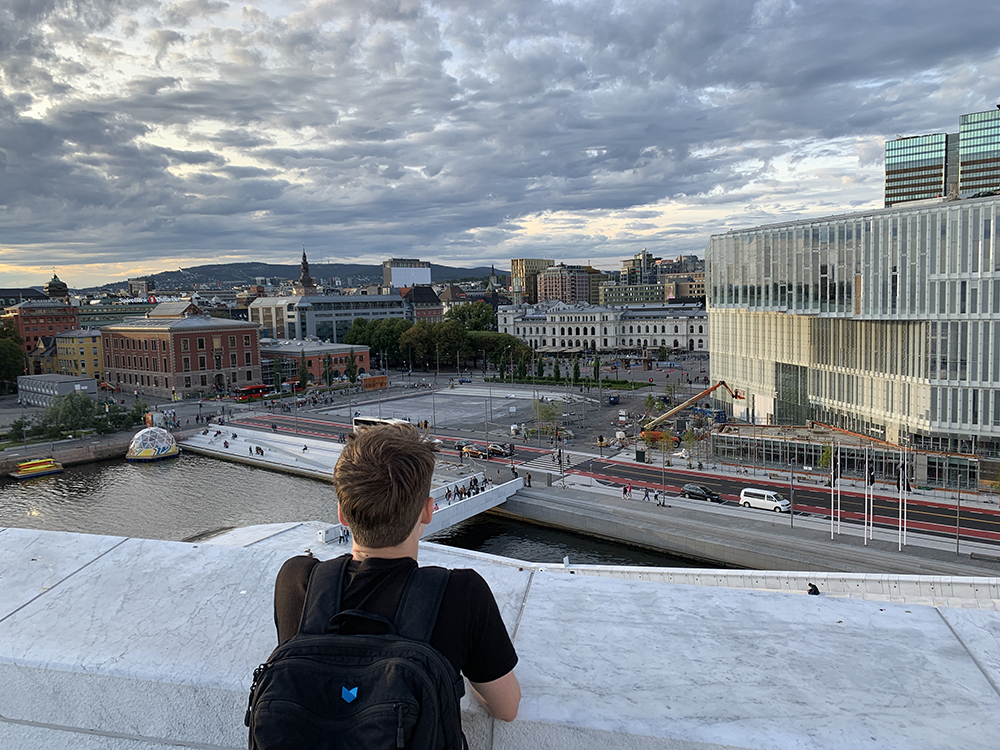 Day Three – island hopping and castles
Another pricey breakfast
We had breakfast at Café Cathedral, and although it wasn't as pricey as the day before, it was still pricey! We spent £40 for eggs, salmon, salad, bread and coffee. 😱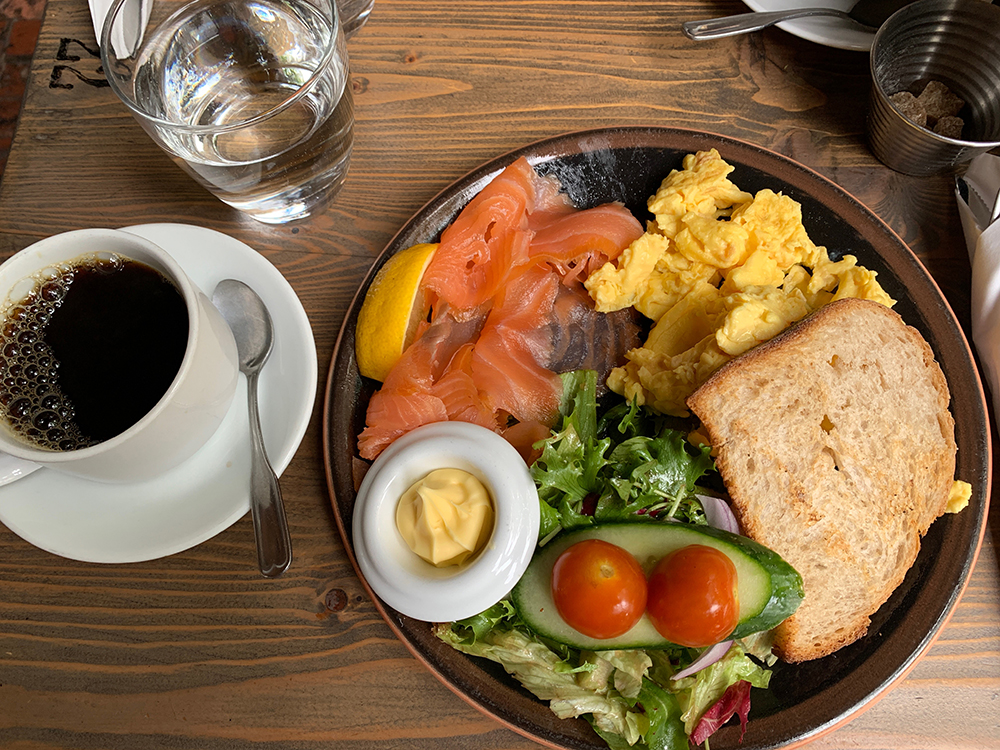 Akershus Festnig
According to Wikipedia, Akershus Fortress or Akershus Castle is a medieval castle that was built to protect and provide a royal residence for Oslo, the capital of Norway. The castle has also been used as a military base, and is today a museum, open for public.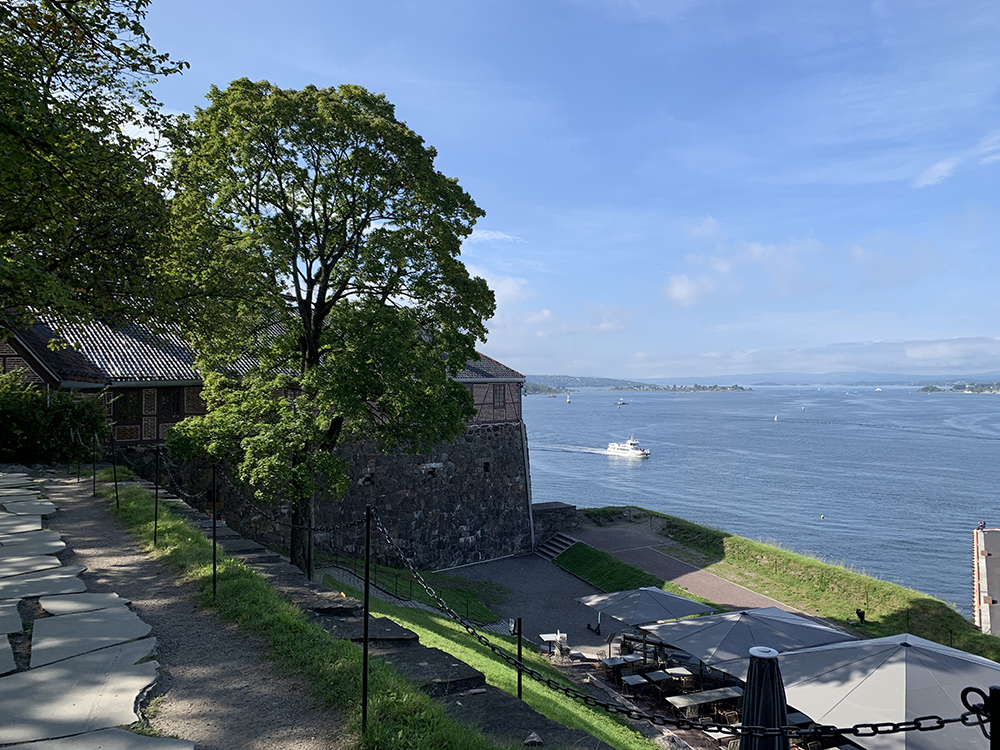 This was our first stop for the day!
It was lovely to spend our morning walking around the castle grounds and learn about the battles fought years ago. Whilst we were exploring here, there were a few locals making their way up to the top as well. Some of them were dressed very smart, some dressed in traditional clothing. We quickly gathered that there was a church service taking place up the castle!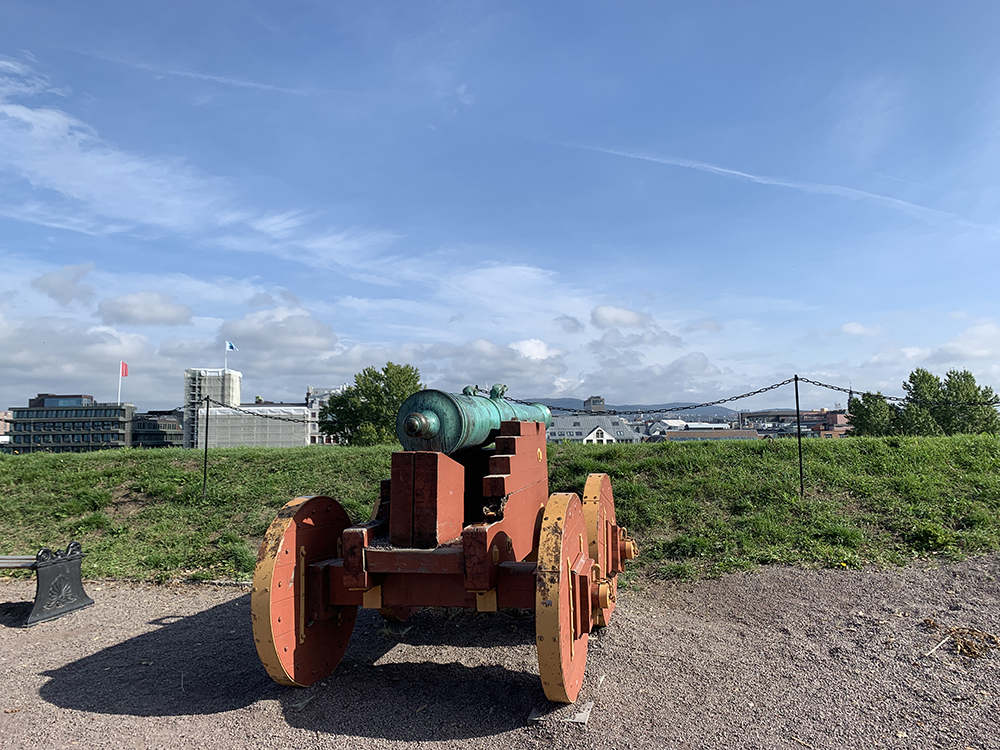 Hovedøya, Lindøya and Nakholmen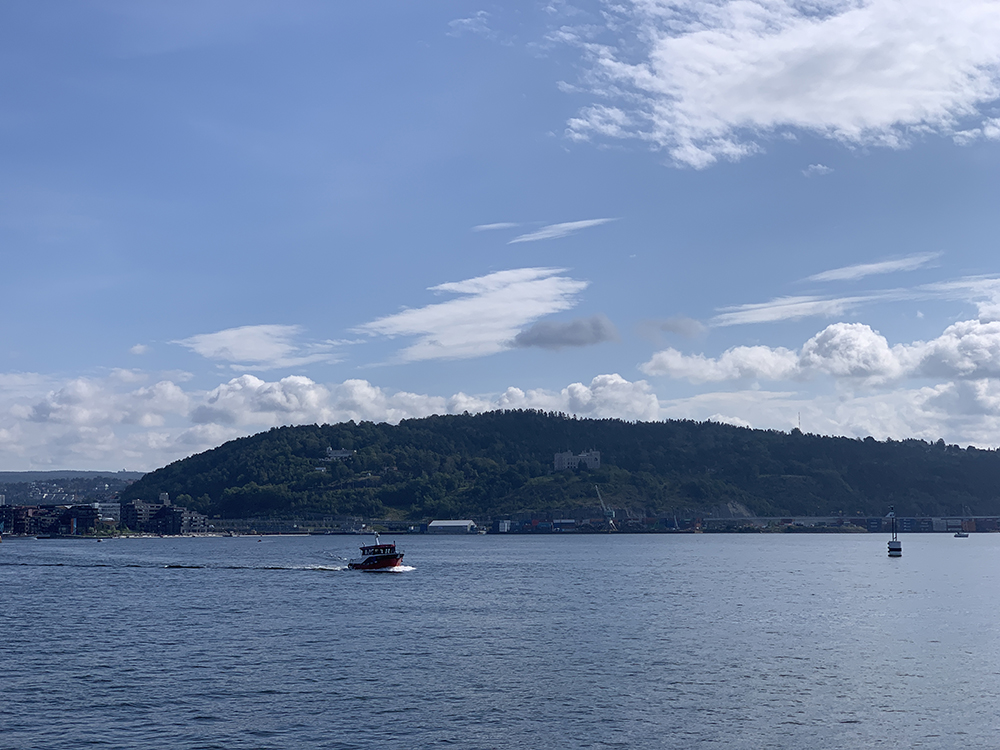 After exploring the castle grounds, we headed back down towards the port. This was where we were to start our island hopping adventure! I asked on Instagram months ago, what are some recommendations of things to do in Oslo and one of them was to do an island hopping tour. There were a few to choose from if you wanted a full guided tour. However, after studying the routes the night before, we decided just to do the closest islands to Oslo ourselves. We bought a ticket, and hopped onto a boat! The good thing about Oslo is all public transport tickets can be bought from one single app, and the ticket covers every single public transport available.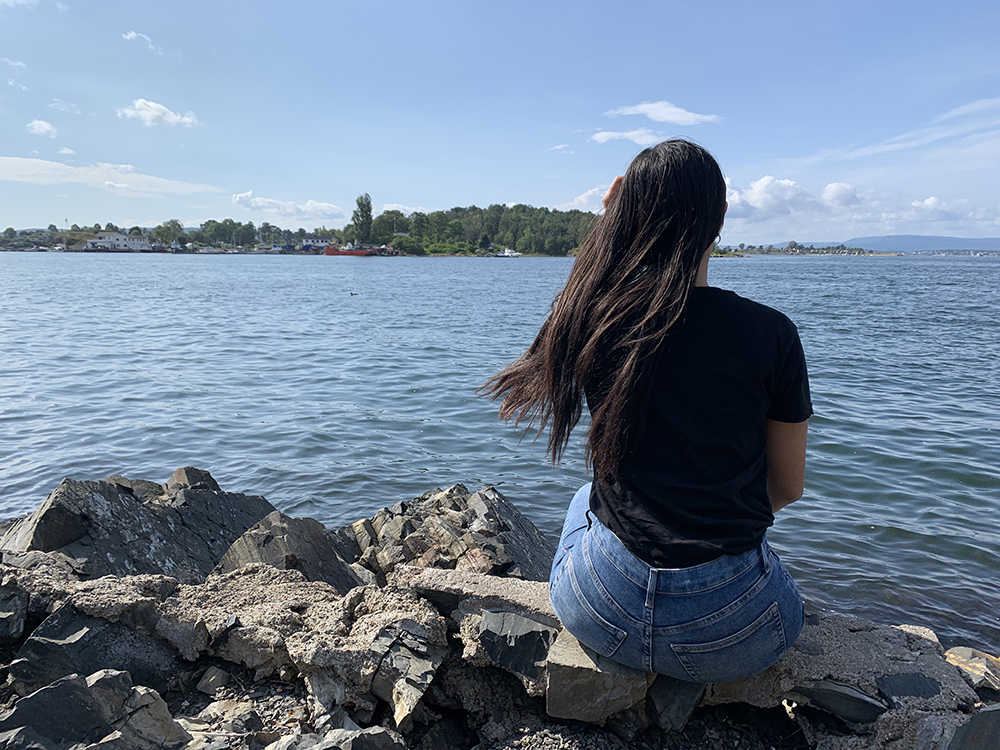 The first island – Hovedøya – was only a short 10 minute ride on the boat. Out of the ones we saw, this one was mostly green spaces with a small beach and one small restaurant. It is where we spent most of our early afternoon at, just chilling out and taking in all the beautiful nature and views. It was pure bliss. 💙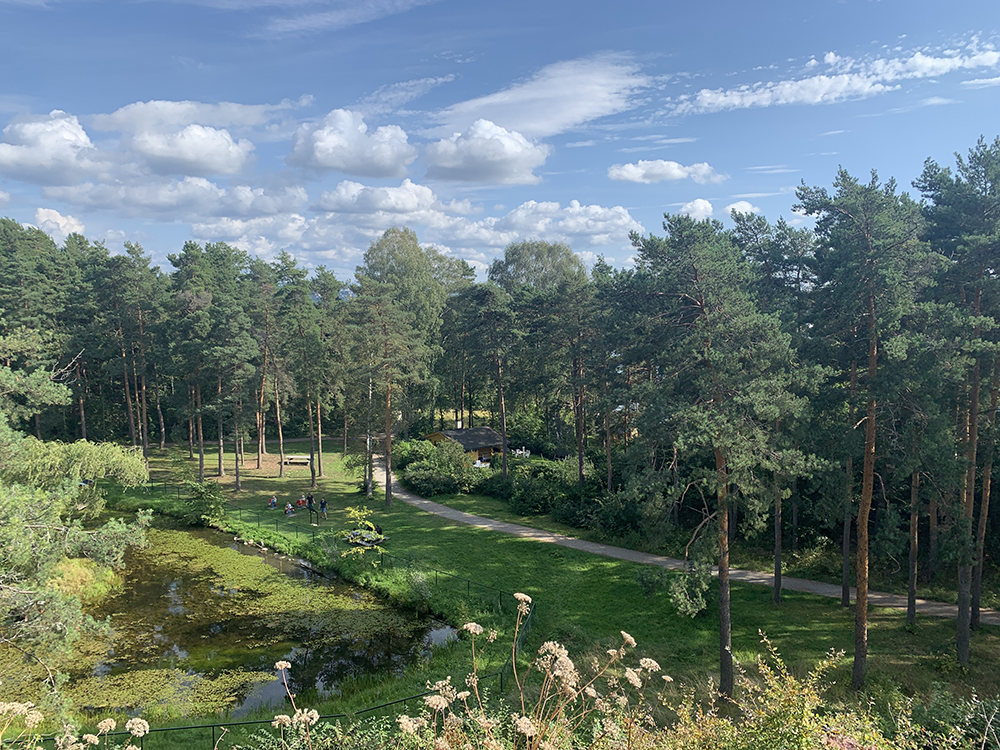 The second island, Lindøya also had a nature reserve but unlike Hovedøya, had more people living on the island. Most of the houses were tiny houses, which Matt and I loved after being a huge fan of the Tiny House Nation show. We found some true gems on this island, we hiked up to the tallest hill and sat up there for a while, completely and utterly happy. Seeing the view of the other islands as well as the hustle and bustle of Oslo City was wonderful. It was meditative, calming and what we needed.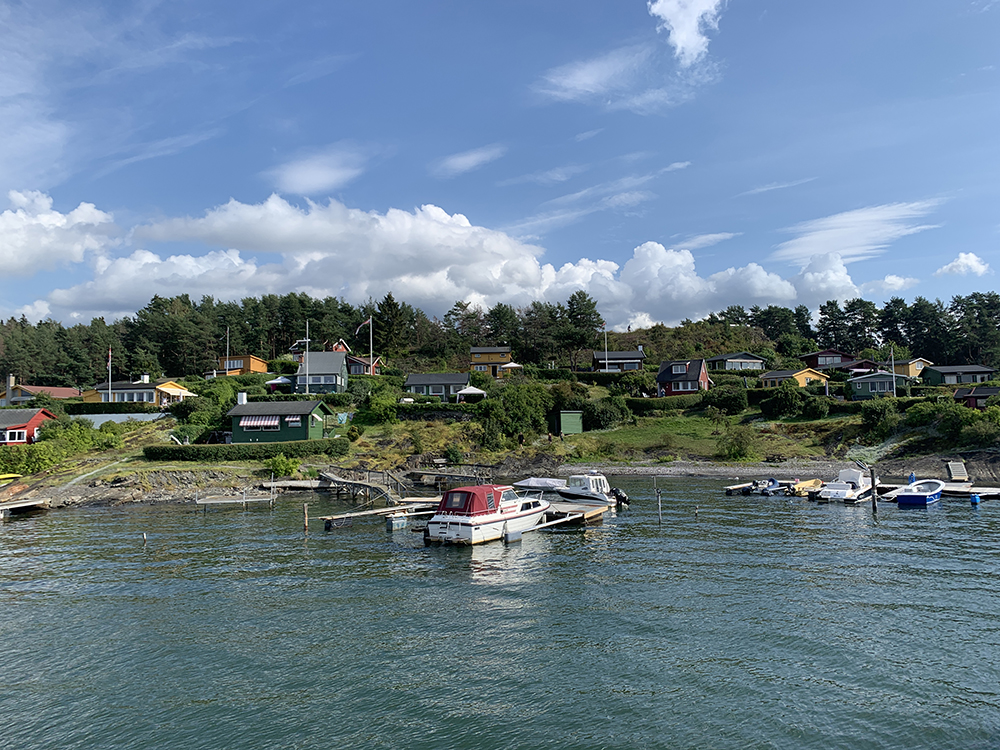 We didn't end up getting off to the next island – Nakholmen – as we were both keen to get back to the city. However, from the boat, it seemed very similar to Lindøya except a lot smaller.
Back to Oslo City
Once we got back to the city, we spent some time by one of the parks by the port and took a quick rest. The whole day was rejuvenating and one of those days where you just don't care or know what time it is! Those are often my best days. 😊
Just before we went to have dinner, we passed an outdoor elevator thing which went super high up. Obviously me being me and terrified of heights, I strongly declined going up. And Matt being Matt, headed straight up there! It was scary to watch but Matt shared that the views were truly magical up there! I believe him but glad I stayed on the ground. 😂
Day Four – heading home, but making the most out of it!
As our train to the airport was 2 hours long, we spent the reminder of our time in central Oslo, walking around the city centre and looking around at the shops. One of the things we noticed whilst we were in Oslo was the number of plant stores dotted about the city. There were LOADS. It was actually fascinating! Matt kept reminding me that I couldn't take a plant home. 😂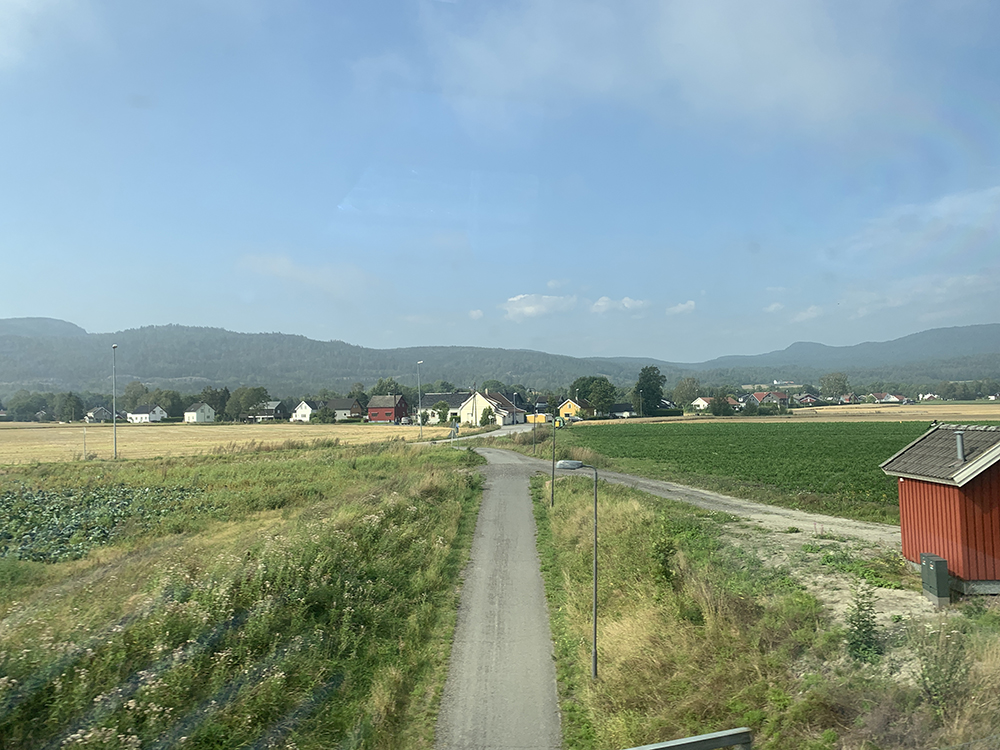 Once we reached Torp airport, we still had loads of time before our flight so we ended up sitting outside in the sun and just taking in as much of that incredible Norwegian air as possible – which by the way is somehow super fresh (just like their water?) the best air I've ever breathed TBH.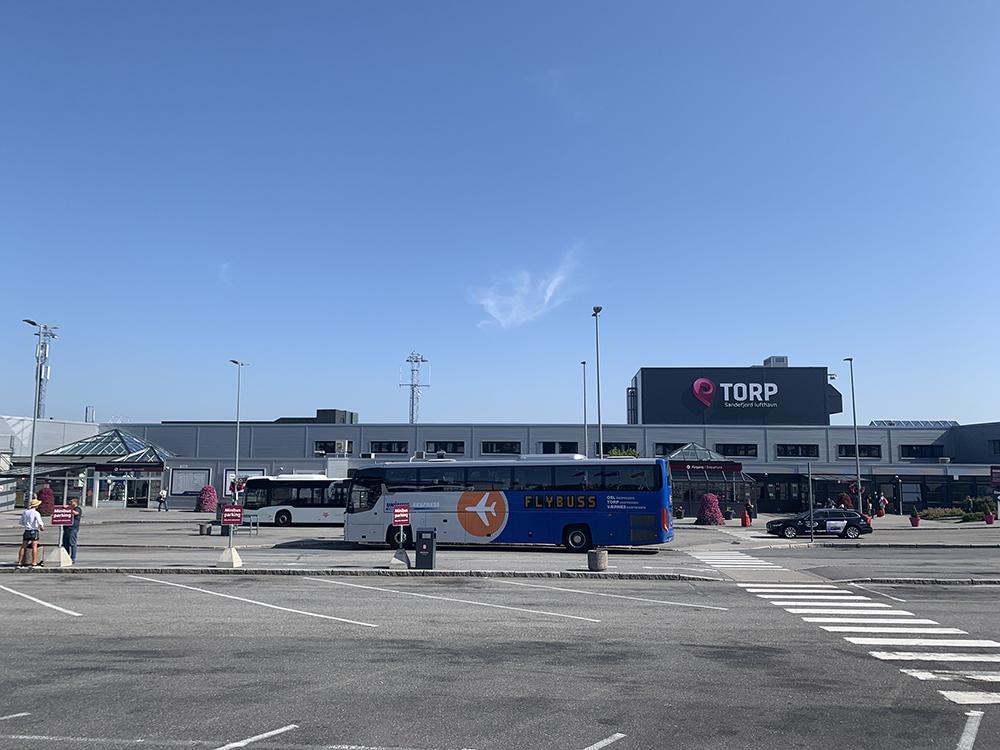 Spending overall
I have never done this with my other travel posts, but I was curious to see how it all totalled up for the 4 days in Oslo. 😂 I hope this gives you a better picture if you're ever thinking of travelling to Norway!
Flights: £130
Trains to Oslo: £93
Accommodation: £250
Breakfast: £131
Lunch: £99
Dinner: £142
Snacks: £44
Tickets – Transport: £34
Tickets – Museum: £36
Other (gifts etc): £5
TOTAL: £964 😳
Without flights and accomodation: £584 😱
Expensive but honestly totally worth it. Have been twice and always worth the money

— Domenica 🇮🇹 (@domierosina) August 24, 2019
---
Much needed headspace
Spending some time away from home and a change of environment was what we both needed.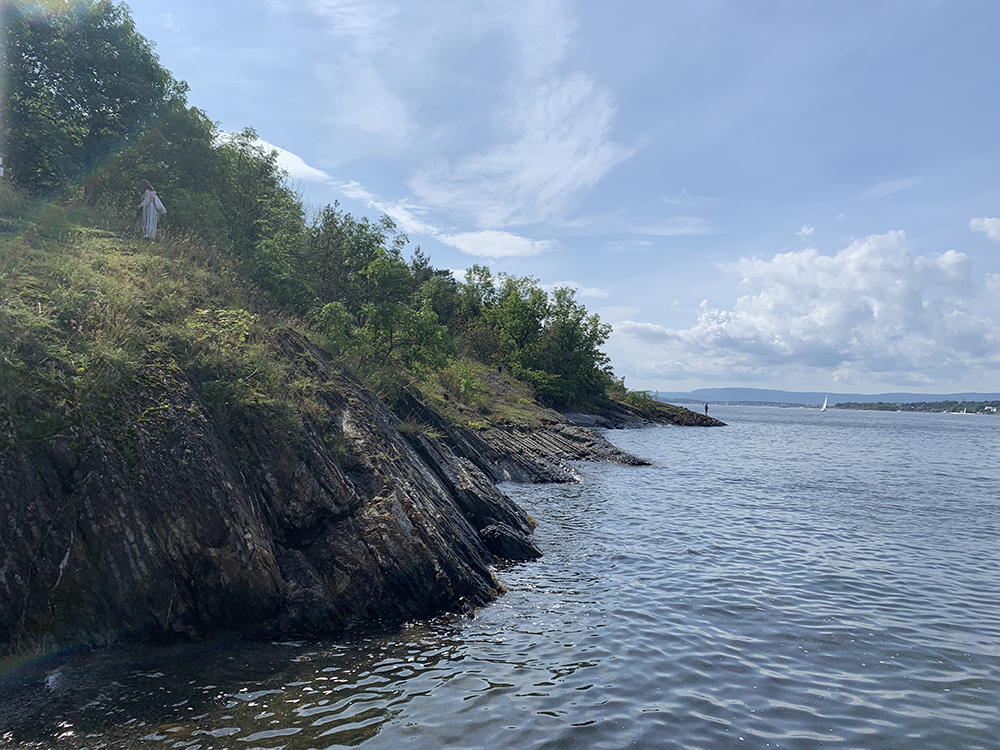 Matt and I have recently been quite stressed out with life in general, so taking the time to just breathe (incredible air) and experience something new was refreshing! The trip inspired me to take a step back, breathe and chill out a little bit. Life is too short. ✨
I hope to return to Norway and hopefully the other Scandinavian countries – I fully enjoyed myself. 🙌🏻